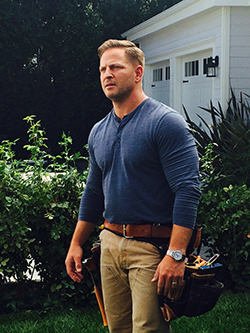 Jason Cameron
On the outside, Jason Cameron looks like a TV star. But on the inside, he's all handyman and all business. Watch him work and it quickly becomes apparent this licensed contractor really knows his stuff, especially when it comes to his own personal passions: home improvement and landscaping. Jason says he recently even gutted his own home and completely revamped the backyard. Now he's putting his extensive hands-on expertise to work for DIY Network building, landscaping, hardscaping and more.

A native of Toledo, Ohio, Jason worked his way through Northern Michigan University as a carpenter, and then moved to the Northern Jersey/New York City area where he continued his carpentry and general contracting business. Catch Jason putting all his tools to work on DIY Network's Desperate Landscapes, Man Caves and Sledgehammer.

Join Jason Cameron at the Sustainable Living Hall Friday, at 5pm, Saturday at noon and 3pm and Sunday at 11am and 1pm.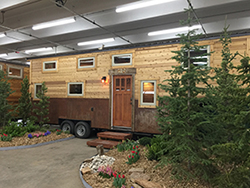 Tiny Home Talk at the Denver Home Show
Tiny home living is becoming a big movement in Colorado. Just a few recent headlines include Durango announcing its first tiny home community, the passing of a new ordinance in Lyons allowing for a limited number of tiny homes on residential property, and Fountain officials considering adopting zoning rules for tiny houses.

What are the benefits of living in a house with a footprint no larger than a parking space? What would it take to make the tiny home movement – well, bigger? Join us for panel discussions featuring some of the state's leading advocates in the tiny living movement during the Denver Home Show to learn more.

Featured panelists will include Art Laubach, executive director of the Colorado Tiny House Association, organizer of the Colorado Tiny House Festival, and builder of Einstyne Tiny Homes; Byron Fears, state chapter leader at American Tiny House Association, board of directors at the Tiny Home Industry Association, and head creative designer and builder at Simblissity Tiny Homes on Wheels. Other participants on the panel include tiny home builders and residents.

Don't miss the Tiny Home Talk panel discussions in the Small Space & Sustainable Living Hall:

Friday, March 22 at 6 p.m.
Saturday, March 23 at 11 a.m. and 2 p.m.
Sunday, March 24 at 12 and 2 p.m.